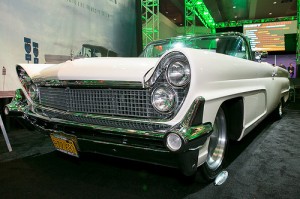 Rock 'n'roll icon Neil Young is scheduled to speak today about the LincVolt at the Specialty Equipment Market Association Show, an automotive aftermarket event held annually in Las Vegas, according to cars.com blog "
Kicking Tires
."
The
LincVolt
is a 1959 Lincoln Continental convertible that has been converted into a plug-in electric hybrid. The technology under the giant hood is similar to that in the Chevrolet Volt, an extended-range electric vehicle, but with a few significant differences.
The generator runs on E85, and can refill the battery in an hour if the car is stationary. One interesting note about the car, besides its unique look:
"LincVolt focuses on ultra-low carbon emissions as value, not mpg," Young states.
Young took the car on a cross-country trip in August, traveling from San Francisco to Washington, D.C., with a stop at the Alberta tar sands in Canada, to raise awareness about the car, the technology and the dangers faced if alternative fuels aren't adopted more widely. He also talks about his work on the project in last year's New York Times' best-selling book, "Waging Heavy Peace."
For a ton of LV photos by Evan Sears go to: