'Album Reviews' Articles
 "We made a live record and every creature on the planet seemed to show up," Neil Young writes of 98-minute uninterrupted album
Neil Young's upcoming album Earth (in stores June 17th) is one of the most unconventional releases in his long catalog, according to Rolling Stone.
On May 6th, Young will unveil Earth at the Natural History Museum Los Angles County's First Fridays series.
The album features 11 songs from his 2015 tour with Promise of the Real mixed with sounds of the Earth.
"Our animal kingdom is well represented in the audience," Young said in a statement. "And the animals, insects, birds, and mammals actually take over the performances of the songs at times."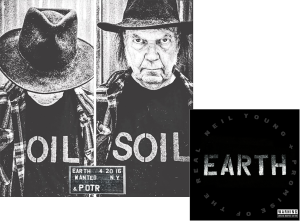 Songlist:
1. "People Want to Hear About Love" (from The Monsanto Years)
2. "Big Box" (from The Monsanto Years)
3. "Mother Earth" (from Ragged Glory)
4. "The Monsanto Years" (from The Monsanto Years)
5. "I Won't Quit" (previously unreleased)
6. "Western Hero" (from Sleeps With Angels)
7. "Vampire Blues" (from On The Beach)
8. "Hippie Dream" (from Landing On Water)
9. "After The Gold Rush" (from After The Gold Rush)
10. "Wolf Moon" (from The Monsanto Years)
11. "Love & Only Love" (from Ragged Glory)
Read more: http://www.rollingstone.com/music/news/neil-youngs-new-lp-earth-mixes-lives-tracks-with-animal-sounds-20160428
Neil Young's new album, "The Monsanto Years," aims to shine a light on the chemical company's manipulation of our food supply, but the songs are so awful that no one is likely to listen.
A new music review of Neil Young's new album "The Monsanto Years' that appeared Friday, June 26 in the New York Daily News says the songs leave on wondering why  he didn't choose a quicker, clearer and simpler way to get his message across. Hadn't he thought of writing an op-ed?
The new album, the author writes, sinks decent riffs and an earnest message in unlistenably didactic lyrics.
Quoting the article: "The band supporting Young has some appeal. The 69-year-old star worked with musicians decades his junior: Lukas and Micah Nelson, the guitar-playing sons of Willie Nelson. They brought in some of their young friends from their band Promise of the Real.
"Even so, no melody or chord progression can survive lyrics like "When the people of Vermont voted to label food with GMO/so they could find out what was in it/Monsanto and Starbucks sued the state of Vermont to overturn the people's will."
Read more at: http://www.nydailynews.com/entertainment/music/neil-young-monsanto-years-one-star-debacle-article-1.2272246