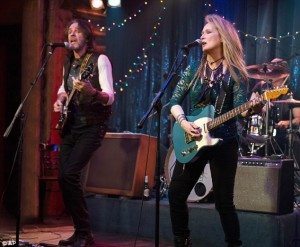 Rick Rosas, who plays Buster opposite Oscar winner Meryl Streep's rocker character Ricki in the new movie "Ricki and the Flash" lost his battle with cancer in November (14), shortly after filming wrapped on the Jonathan Demme project and there's a special tribute to him in the credits at the end of the movie.
Born in Los Angeles in 1949, Rosas also worked with Demme on 2006's Neil Young: Heart of Gold documentary.
One of California's most in-demand session musicians, he also worked with Joe Walsh, Crosby, Stills, Nash & Young, Jerry Lee Lewis, Ron Wood and Etta James.
He was the only bassist to have played in three of Neil Young's bands – Buffalo Springfield, Crosby, Stills, Nash & Young and Crazy Horse.
The new film has other ties to Neil Young – the rocker taught Streep how to play guitar for the project.
The report comes from http://www.contactmusic.com/meryl-streep/news/meryl-streep-s-new-film-dedicated-to-bass-player_4860035
Here is more about the guitar lessons from Entertainment:
The actress, who plays a struggling musician trying to reconnect with her family in the movie, revealed to host Jimmy Fallon that she did not know how to play guitar prior to filming so director Jonathan Demme set up a meeting for her to meet Neil Young.
"My first lesson was 45 minutes with Neil," Streep said. "He is amazing, it's cool."
When asked if she learned anything from the legendary rocker, Streep said Young told her: "'You see all the amplifiers and all the wires and you go 'what is all this s–t?'" Young then told her to "crank it up to 11.  You've got to turn it up, turn it up loud."
Here's the video: