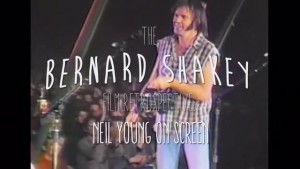 Adrian Mack at the Georgia Straight writes about the Bernard Shakey Film Festival currently touring the country.
The latest showing was held July 31, Aug 1 – 4, 6 and 10, at the Cinematheque, a 194-seat theatre in the heart of Vancouver's downtown.
Mack writes: "Musically speaking, we love it when the chaos of this singular singer-songwriter's imagination coheres into something inexplicably moving—think of the bizarre imagery that gives 'Powderfinger' its unlikely force, or the silver spaceships of  'After the Goldrush'—but we're less forgiving when he applies the strategy to the seventh art.
"This movie was made up on the spot by punks, potheads, and former alcoholics," is how Young described Human Highway, an improvised home movie self-financed over four years to the tune of three million bucks, and then released in 1983 to the same howls of derision that seemed to greet everything the musician did in the '80s.
Viewed now in its director's cut, Human Highway is far more entertaining than its critics allowed, Mack said.
As for Young himself, Mack calls his uninhibited performance as uber-nerdy car mechanic Lionel a "true marvel." What millionaire rock star has ever elected to make himself look this goofy? "Jerry Lewis movies, Japanese horror movies, The Wizard of Oz—it's all in there," was Young's appraisal of this brazen and unapologetic mess; a vanity project perversely free of anything remotely vain.
According to the article:
Bernard Shakey's first ever celluloid credit appeared nine years earlier with the infamous Journey Through the Past (1974). Young made the film as Harvest was turning him into the world's shorthand for sensitive rustic hippie. Along with the album of the same name, it helped transform Shakey's reputation as something quite different, raising its auteur's gambit of not giving a shit to dizzying heights. Journey Through the Past obliterated everybody's expectations, but if the subsequent panning of the album was understandable, the film deserved better.
If we see Shakey now as a man with a steadfast loyalty to his own muse, and a sincere indifference to your opinion, this movie clued us in 40 years ago. Its value as cinema, meanwhile, is best summed up by long-time collaborator Larry "LA" Johnson, who praised Young's primitivism. "He will try stuff people more knowledgeable than him would never think of trying," he said. "He's the naïve explorer."
The explorations of Muddy Track (1987) might provide this retrospective with its towering moment of dreadful inspiration. Young was in Europe with Crazy Horse when his entire world went into free fall, and his diary of that disastrous 1987 tour, captured with a video camera named Otto, is unmissable. "What I'm looking for is anything bad," he tells a small crew at the beginning. "If people get uptight while you're filming, don't stop… Anything that happens that's going wrong, I want it."
Cue endless sheets of freezing European rain, riots, numerous cancelled shows, bad shows, worse shows, band fights, more band fights, painfully bad interviews, and the pitiful sight (and sound) of Crazy Horse drummer Ralph Molina trying to wrestle with synth-drums. Muddy Track is a terminal document from what should have been the end of Neil Young's career. "It was a tour with a bunch of people that hated each other, hated what they were doing, and it showed," said producer David Briggs.
Significantly, the gonzo humour is also still intact. In fact, Young is straight-up nuts in Solo Trans. "I got way into that guy," he said, of the greaser Shocking Pinks persona he adopted at the time. "I was that guy for months. He was out there. It was a movie to me. Nobody saw it but me, but who gives a shit?"
"Nobody saw it but me, but who gives a shit?" What a great title for this must-see weekend of films.
Also Included: Rust Never Sleeps (1979), Neil Young Truck Show (2009, directed by Jonathan Demme), and Dead Man (1995, directed by Jim Jarmusch).
Read more at http://www.straight.com/movies/499606/neil-young-journeys-through-shaky-career-movies