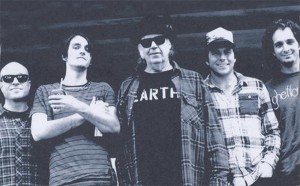 Neil Young at the premiere screening of the movie "The Monsanto Years" on Wednesday, April 22 and the IFC Center in New York.
"It's a move about making a record." N.Y.  Not rated, 59 minutes.
A very special work-in-progress screening, this is a document of the recording of the upcoming album 'The Monsanto Years' with Neil Young & Promise of the Real. "No auto tune or vocal booths were used, and no ears were harmed in the making of this record." – Shakey Pictures
"Neil Young and Promise of the Real, a band featuring Willie Nelson's sons Lukas and Micah, will hit the road this summer in support of their upcoming album together, The Monsanto Years. Young's new LP will reportedly arrive on June 16th according to a press release sent to promoters, while the Rebel Content Tour itself will kick off July 5th at Milwaukee's Summerfest…. In January, Young revealed that he was working on an album called The Monsanto Years, but the rocker appeared to be joking about the title at the time. 'I'm working on another album now that I'm going to be doing with Willie Nelson's sons,' Young said. 'It's an upbeat review of the situation.' At a surprise concert April 16th at San Luis Obispo, California's SLO Brewing Co., Young and Promise of the Real debuted 11 new tracks that might appear on their joint LP. Those songs boasted protest-minded titles like "Monsanto Years," "Rock Starbucks," "Seeds" and "Too Big to Fail," fan site Sugar Mountain reports. Young had previously teamed with the Nelson brothers at Farm Aid and the Bridge School Benefit." – Rolling Stone
 A Bernard Shakey Movie.
And his Q & A with the audience at the Bernard Shakey Film Retrospective
Neil Young made a special guest appearance at the week-long Bernard Shakey Film Retrospective, held at IFC, NYC, April 17-23. Following showing of the film Muddy Track (ahem, perhaps the TOP Neil film ever created), Neil was interviewed on-stage by filmmaker Jim Jarmusch and also fielded questions from the audience. Neil then returned a little while later and talked about his upcoming album, titled The Monsanto Years. A film that captured the recording of the album in the studio was then shown at IFC. It's a rocking, soulful album but, as the title might indicate, relies heavily on environmental tones.
Thanks to Rustes Televisione YouTube channel
From IFC:
Long one of folk and rock's most respected artists, Neil Young—under the pseudonym Bernard Shakey—has also been making films for over four decades, from concert movies JOURNEY THROUGH THE PAST (1974) and RUST NEVER SLEEPS (1979), to GREENDALE (2003) and other fiction features. This weeklong survey offers a rare opportunity to discover another side of Young's creative genius, both behind and in front of the camera. The program includes weeklong NYC theatrical premiere engagements of MUDDY TRACK (1987), a one-of-a-kind chronicle of a European tour with Crazy Horse, and the newly restored director's cut of HUMAN HIGHWAY (1982), a wildly anarchic satire of Cold War America starring Young, Dean Stockwell, Sally Kirkland, Russ Tamblyn and Devo. Also screening are Young's two collaborations with Jim Jarmusch: DEAD MAN (1995), for which Young provided the stunning, feedback-heavy score, and YEAR OF THE HORSE (1997), a kaleidoscopic doc portrait of Young and Crazy Horse during their 1996 world tour.