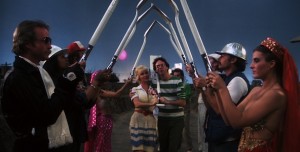 Archives Guy on Facebook announced on April 10  The BERNARD SHAKEY RETROSPECTIVE.
April 17-23 at the IRF Center,
323 Sixth Avenue at West Third Street, NY, NY.

FEATURING:
*Theatrical World Premieres of Muddy Track and Solo Trans.
*Human Highway (Director's Cut).
*World Premiere of the newly restored Rust Never Sleeps.
Picture carefully restored from the film's original negative, and audio restored from the original sources…with a new and improved 5.1 surround mix by Tim Mulligan (the concert and film's original mixer).
Movie include Deadman, Greendale, Human Highway Director's Cut, Journey Through the Past, Muddy Track, Neil Young Trunk Show, Rust Never Sleeps, Solo Trans & A Day at The Gallery. Year of the Horse.
According to the IFC Center: This weeklong survey offers a rare opportunity to discover another side of Young's creative genius, both behind and in front of the camera. The program includes weeklong NYC theatrical premiere engagements of MUDDY TRACK (1987), a one-of-a-kind chronicle of a European tour with Crazy Horse, and the newly restored director's cut of HUMAN HIGHWAY (1982), a wildly anarchic satire of Cold War America starring Young, Dean Stockwell, Sally Kirkland, Russ Tamblyn and Devo. Also screening are Young's two collaborations with Jim Jarmusch: DEAD MAN (1995), for which Young provided the stunning, feedback-heavy score, and YEAR OF THE HORSE (1997), a kaleidoscopic doc portrait of Young and Crazy Horse during their 1996 world tour.
Read more here: http://www.ifccenter.com/series/the-bernard-shakey-film-retrospective-neil-young-on-screen/