Posts Tagged 'ocean'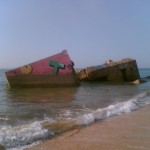 the waves are crushing on the beach, feel it.
Random Quote
"The only way to protect the people of Fort Mac is to Honour The Treaties. Stop this wanton devastation."
by -- The Passenger
Sugar Mountain setlists
Tom Hambleton provides BNB with setlists, thankfully. His website is the most comprehensive searchable archives on the Internets about anything Neil Young related setlists.
Goto Sugar Mountain
.
BNB has 1176879 Guests, from the new start