Music Review, April 20, 2011|By James Reed, Globe Staff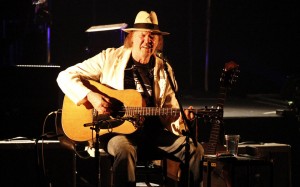 [photo] With acoustic and electric guitars, two pianos, and a pipe
organ, Neil Young… (WINSLOW TOWNSON FOR THE BOSTON GLOBE)
NEIL YOUNG With Bert Jansch
At: Citi Wang Theatre, last night (repeats tonight)
One of the great pleasures of experiencing Neil Young live is the fact that he's still a wild card, still hungry to forge ahead. No matter how well you know his songs, it's never clear how Young, at a restless 65, will interpret them on stage the night you're hearing him.
Over the past few years, his concerts in the Boston area have varied from acoustic showcases to rafter-rattling rock spectacles that make you wonder how he does it.
At the Citi Wang Theatre last night, for the first of his two consecutive performances there, Young offered both sides of his artistry.
Opening with a trio of heavy-hitters ("Hey Hey, My My (Into the Black),'' "Tell Me Why,'' "Helpless''), Young eased into the night on acoustic guitar and harmonica before the electric deluge ("Down by the River,'' "Ohio'').
Young is on the road behind last year's "Le Noise,'' a spectral solo album produced by Daniel Lanois. His stage setup — just Young with an assortment of guitars, two pianos, and a pipe organ — reflected that directness. Played with various effects on his acoustic guitar, the new songs ("Love and War,'' "Peaceful Valley Boulevard'') resonated with a metallic warmth.
On "Hitchhiker,'' a jagged rocker from his new album, Young could barely conceal a sneer as he recalled how he handled his early success: "But the neon lights/And the endless nights/Fame took me by surprise/The doctor gave me Valium/But I still couldn't close my eyes.''
At times, his performance cut so close to the bone, it sounded like some of his live recordings that captured Young playing to coffeehouse crowds in the late '60s.
A plaintive piano rendition of "I Believe in You'' sounded like Young had written it on the spot, and a typically expansive "Cortez the Killer'' was the perfect preface to "Cinnamon Girl.''
Bert Jansch, the revered Scottish guitarist, singer, and songwriter whose disciples include everyone from Young to Jimmy Page, opened the show in a similarly stark fashion.
Armed with an acoustic guitar — and sometimes it really did sound like a weapon — Jansch summoned the pathos of a man who has lived the hard times he salutes in song.