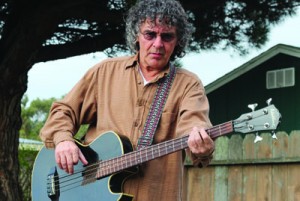 Bassplayer has a nice interview with Billy Talbot:
Horse Sense: Billy Talbot on Energy, Emotion, and Free Expression with Neil Young
By JIMMY LESLIE
Wed, 17 Apr 2013
NEIL YOUNG & CRAZY HORSE'S BILLY TALBOT POSSESSES A PROFOUND UNDERSTANDING of how to pick up on a tune and make it flow.
From the explosion of 1969's "Cinnamon Girl" on through "Hey Hey, My My" and into the present, Talbot has been Young's rhythmic compass and eternal energy source. NY&CH convened to record at Young's house during full moons last spring and summer.
…
What is at the heart of your bass style, and how do you apply it to Crazy Horse?
My bass style is simply to keep the feel flowing. I don't like to make up things, per se. I like to let elements beyond playing the changes and the groove come to me within the feel as the song progresses. We don't play R&B songs built on dominant bass lines; our songs are all about the lyrics or the sincere expressiveness of Neil's lead guitar, so mostly my job is to play a lot of root notes with the main feel, and stay that way for however long is required with energy. Capturing that magic is really important to Crazy Horse, so we like to record a new song the first time we perform it.
read more:
http://www.bassplayer.com/article/horse-sense-billy-talbot-on-energy-emotion-and-free-expression-with-neil-young/151371