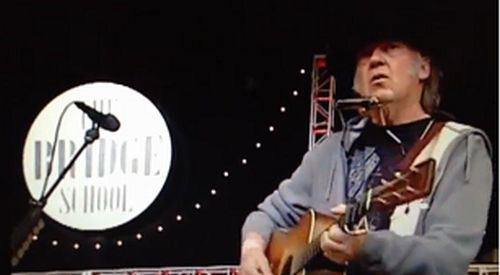 Day-2 with a beautiful 10 minute tribute to the late Lou Reed, by Neil Young, Elvis Costello, My Morning Jacket, Jenny Lewis & others performing "Oh! Sweet Nuthin'"
2013-10-27
Shoreline Amphitheatre, Mountain View, California, USA
Bridge School Benefit 27
w/ Crosby, Stills, Nash and Young

01. Changes (Phil Ochs cover)
02. Blowin' In The Wind (Bob Dylan cover)
03. Comes A Time
---
04. War Of Man (guests w/ Heart; Rockin' full band version)
---
05. Harvest Moon (guests w/My Morning Jacket)
06. Oh! Sweet Nuthin' (guests w/My Morning Jacket; Velvet Underground cover)
---
CSNY
07. Just A Song Before I Go


08. Human Highway


09. Don't Want Lies
10. Singer Without A Song
11. What Are Their Names
12. Déjà Vu
13. Long May You Run
14. Suite: Judy Blue Eyes

all artists
15. Teach Your Children

thanks to tom h at sugar mountain.