Described somewhat aptly?  as: "A grizzly bear of a man wrings sublimely heavy tones from a battered old Les Paul and a chain of massively overdriven amps while his seasoned companions sweat and toil to forge the most elemental of grooves: such is the lumbering majesty of Neil Young and Crazy Horse live."
Too bad they used the photo of Neil is his poncho.
This is the opening paragraph in an article from UK's 'The List," talking about the upcoming European tour of Neil Young with the horse.
It's been 12 years since they played in Scotland. The June 13 Glasgow show is sold out.
The short article is somewhat over-the-top in liberties taken with lines like  "Coke-addled LA hippie aristocracy," and "doo-wop harmonies" described  as an "Embodiment of human frailty."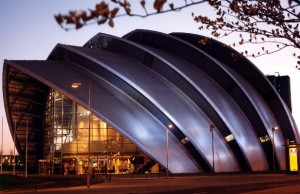 Beautiful Clyde Auditorium where Neil will play with the Horse.
http://www.list.co.uk/article/51010-neil-young-and-crazy-horse-set-for-2013-uk-tour/