For those of you who can't wait, one of the first reviews of the June 2 Berlin concert that kicked off the European Alchemy Tour of Neil Young & Crazy Horse.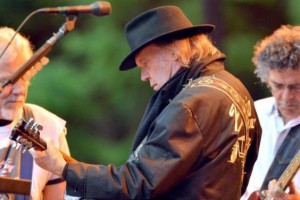 Dressed all in black Neil, along with Poncho, Billy and Ralph played to a crowd of 22,000 at Waldbuehne.
One article describes the Horse as: "Ancient warriors" and "Not virtuosos but instinct musicians." Apt descriptions.
Another calls Neil "The Last Unicorn." But we already knew this..;-)
Read more at :
Human-Highway, live reporting from Berlin.
Now over. http://www.ruhrnachrichten.de/nachrichten/welt/boulevard/Open-Air-in-Berlin-Neil-Young-Grosser-Laerm-zarte-Lieder;art300,2021597
More concerts to  come: Neil Young & Crazy Horse in Sommer: 3.6. Hamburg, 12.7. Köln, 14.7. Locarno/Schweiz, 15.7. Vienne/France, 22.7. Stuttgart, 23.7. Nyon/Schweiz, 14.8. Dresden.
More German Articles:
http://www.welt.de/kultur/buehne-konzert/article116770529/Neil-Young-ist-das-letzte-Einhorn-des-RocknRoll.html
http://www.morgenpost.de/berlin-aktuell/article116441018/Neil-Young-in-Berlin-2013-Infos-zu-Konzert-und-Karten.html
http://diepresse.com/home/kultur/popco/1413879/Neil-Young-auf-Tour_Garagenrock-will-never-die?_vl_backlink=/home/kultur/popco/index.do
http://www.fr-online.de/panorama/neil-young–grosser-laerm–zarte-lieder,1472782,23101250.html