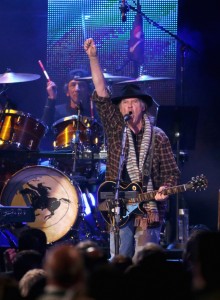 The Recording Academy Producers &  Engineers Wing will celebrate its  seventh annual GRAMMY Week event this year honoring two-time GRAMMY winner Neil Young for his  commitment to excellence and ongoing support for the art and craft of recorded  music, BroadwayWord.com is reporting.
The event will be held on Tuesday,  Jan. 21,  2014, at  the Village Studios in  West Los Angeles.
"This year, it is with great honor that we pay tribute to a musical icon who has  been tireless in his own efforts to draw attention to the importance of hearing  music as the artists who created it intended, and who has continually set  precedents of excellence within the music community, "  said Neil Portnow, President/CEO of The Recording Academy. "The contributions of Neil Young are  innumerable, as is his incomparable body of work, and we look forward to an  unforgettable evening with this legendary artist."
Young has spent the last few years working on PONO, an audio service that he claims will restore digital audio to its original analog sound. In addition, Young is also an accomplished musicians, songwriter and philanthropist. He recieved the MusiCares Person of the Year award back in 2010.
Past honorees include: Chris  Blackwell, T  Bone Burnett, Tom Dowd, Ahmet and Nesuhi Ertegun, Jimmy  Iovine, Quincy  Jones, Arif  Mardin, Al Schmitt, and Jerry  Wexler.
The 56th Annual GRAMMY Awards  airs Sunday, Jan. 26.
Read more about The Recording Academy Producers & Engineers Wing to Honor Neil Young – BWWMusicWorld .