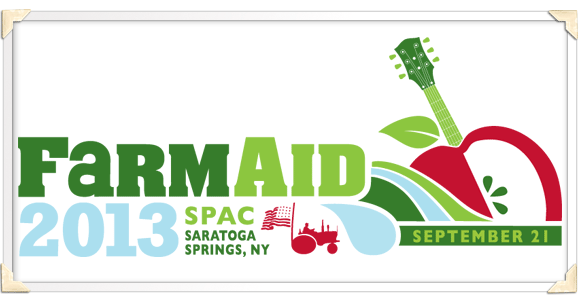 Aramark is Halliburton. A Dick Cheney company. Why Neil yould be proud of working with them is strange. For sure they are not "family farmers".
Published: Monday, September 23, 2013, By Paul Post
Saturday's Farm Aid concert, which included performances by Neil Young, John Melloncamp, Jack Johnson, Dave Matthews and Willie Nelson, drew about 25,000 people to Saratoga Performing Arts Center.  >> Farm Aid concert-goers left a sea of white litter on top of the green earth the event's organizers are trying to promote.
Sunnyside Gardens owner Ned Chapman donated pumpkins and flowers for Saturday's sell-out concert and was dismayed at the scene he found Sunday morning when he went to retrieve those items from Saratoga Performing Arts Center.
The grounds also were strewn with countless beer cans from some of America's biggest corporate giants. At the same time, Farm Aid mandated that all food concessions had to be from organic or sustainable family farms.
"It was a mixed signal," Chapman said. "It became crystal clear that it was all about the money. That's what it was."
Farm Aid Communications Director Jennifer Fahy said, "Food and beverage at a venue is under the purview of the venue. Farm Aid makes an arrangement as part of our contract negotiations with the venue we play at each year to change out all the ingredients for concessions at Farm Aid so that they come from family farm sources. We are very proud to work with Aramark and Live Nation to accomplish this. This year we brought in additional vendors, such as the Taste New York tent, where concert-goers seeking beer could instead choose New York beers, wines and ciders that featured New York farm ingredients."
The full line of performers, including headliners and Farm Aid board members Willie Nelson, John Mellencamp, Neil Young and Dave Matthews, donated their time and talents for the annual benefit concert, which raises money for the "Good Food Movement" that emphasizes fresh, locally grown food. This was Farm Aid's first time in upstate New York since its founding 28 years ago in Illinois.
But Vincek Farm owner John Vincek of Wilton said, "They really should have promoted all the farmers, not just organic farms. Imagine trying to feed the whole country with early 1800s farming methods? There are too many people on the planet. You've got to embrace modern technology."
Vincek, who donated hay and straw, said he was surprised at the event's aftermath, too.
"It looked like a war zone," he said. "These people are supposed to be about save the Earth. They had no problem throwing trash on the ground."
Chapman is president of New York Flower Power, which promotes the state's $400 million garden center and greenhouse industry. He is also a New York State Christmas Tree Growers Association board member.
Read More: http://saratogian.com/articles/2013/09/23/news/doc5240e367799bd357641898.txt
finally a text file =;)