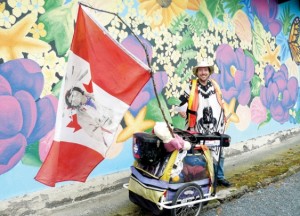 He says he's joining Neil Young's war on ignorance.
Gray Bear, a member of the First Nations, is featured in an article by the Oceanside Star.
He is dragging a cart behind him, bedecked with a huge First Nations flag, a white Teddy bear, a music case with the CBC logo and other symbols representing Canadian icons he sees as being under attack by the Harper government.
A beekeeper and musician by trade, he holds music legend Neil Young as an icon, praising him for taking a stand against the further development of tar sands in Alberta."I adore him for having the courage to do what he did," he said. "People don't realize what danger he puts himself in. He puts himself on the spot and he knows he's going to be persecuted. He's waging a war on ignorance."
Read more at:
http://www.oceansidestar.com/community/joining-neil-young-s-war-on-ignorance-1.848238