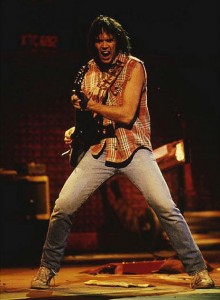 A thoughtful piece by Mike Mineo for Concertour.org – somewhat of an analysis of Neil Young's musical journey down the path to grunge.
"On a purely superficial level, his plaid shirts and unkempt hair made it all the more comprehensible. Like many grunge heroes, he seemed to always dress like it was autumn."
The writer points to Cinnamon Girl as the launching pad:
Mineo writes: "While some argue that Nirvana's Kurt Cobain rightly deserves the label, glimpses of Young's influence on grunge is heard as early as the late '60s, when Cobain was learning how to walk. 1969's "Cinnamon Girl" is one surefire predecessor. Its twangy distortion rides over the tender nonchalance of dual vocals, and a booming bass descends ominously at each verse's end. Young's vocals are more sweeping and melancholic than grunge staples here, and the vocals are more up-front as opposed to grunge's traditionalized tendency of pushing vocals toward the back."
The writer says there are plenty of Young tracks throughout the '60s, '70s, and '80s that show glimpses of what was to come in early '90s grunge. His 1979 album, Rust Never Sleeps, is one of the greatest examples. The genius of "Hey Hey, My My (Into the Black)" is never to be understated, as its crunchy guitars and Young's gripping guitar solos went on to influence a legion of grunge artists.
Read more: http://concerttour.org/neil-young-affected-sound-grunge-movement.php#ixzz2wmqb75tU
Get grungy with Neil this Sunday.