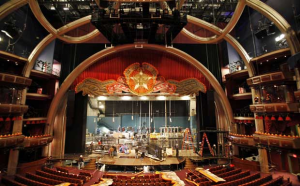 Neil Young has added a third show to his Dolby Theater concerts scheduled in Hollywood, California this summer.
Show dates are Saturday, March 29. Sunday March 30 and now Tuesday, April 1st (April Fool's Day).
The presale is sold out for Saturday and Sunday concerts, according to Neil's website.
Order tickets at:
http://www.ticketmaster.com/search?tm_link=tm_homeA_header_search&aid=736511&user_input=neil+young&q=Neil+Young
Prices range from $65.50 to $396.00 each plus service fees.
This warning is posted at the ticket purchase site:
ANYONE WHO ENTERS THE THEATRE IS REQUIRED TO HAVE A TICKET REGARDLESS OF AGE – ANYONE CAUSING DISRUPTIONS WILL BE ASKED TO STEP OUTSIDE TO VIEW FROM THE MONITOR AND NO REFUNDS OR EXCHANGES WILL BE ALLOWED.
Some information is available at: http://www.neilyoung.com/tour.html
The historic Dolby Theater , formerly known as the Kodak Theater, hosts the Academy Awards.
It seats 3,332.