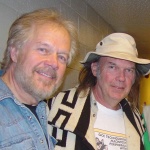 Neil Young will be among the guest musicians playing on Randy Bachman's next album, titled "Heavy Blues" and due for release on April 15, 2015.
"Do something fearless, be fierce, be ferocious, reinvent yourself," Young is said to have told Bachman.
According to Ultimate Classic Rock, the album will include a small core combo: bassist Anna Ruddick and drummer Dale Anne Brendan, and will reflect  the band's "love of classic '60s blues rock" and promises "a blistering sound" as well as "a fierce and fearless collection of Bachman originals."
Bachman enlisted a group of guest guitarists for the tracks: along with his own signature playing, 'Heavy Blues' features solos from Neil Young, Joe Bonamassa and Robert Randolph, as well as a contribution from the late Jeff Healey, who passed away in 2008 at the age of 41.
Bachman credits Young with helping push him toward making the leap he took for 'Heavy Blues,' recalling a conversation between the two in which Young cajoled him to try something different. "He said, 'Take some advice. Don't do the same old crap and call it something new.' I said, 'What do you mean?' He said, 'Don't do the same thing and say it's a new album … Stop, get out of the box, do something fearless, be fierce, be ferocious, reinvent yourself.' And I go, 'OK, great advice.'"
Read More: Randy Bachman Announces New 'Heavy Blues' Album | http://ultimateclassicrock.com/randy-bachman-heavy-blues/?trackback=tsmclip