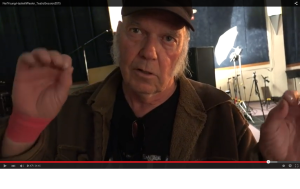 Neil Young and Promise of the REAL from Teatro Sessions, 2015.
Haskell Wexler follows Neil Young getting out of his electric LincVolt and into the studio during rehearsals.
A real down home feel to it all.
In the video John Hanlon, producer/recording engineer says: "He (Neil) just captures the moment, he gives it his all, he goes for the throat. If he is not feeling it, he ain't gonna pick up the guitar. If he's feeling music, then he is recording, he's playing and I am recording it because that's what art is, capturing the movement, – all the human imperfections, that is what it is about always. He is the commensurate artist, we get first takes on everything, that's the idea, cuz that's often times the best stuff. If you have to think about it that's not creating, that's thinking, then it doesn't work, it doesn't have that passion."
Wexler is an American cinematographer, film producer, and director. Wexler was judged to be one of film history's ten most influential cinematographers in a survey of the members of the International Cinematographers Guild. He filmed Young in his LincVolt back in March.
In November 2014 Wexler tweeted this :"My niece brought Neil Young over for lunch where we discussed, among other things, his anti-war music. Although… http://fb.me/6ZxbV9uXh"