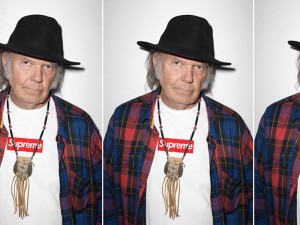 A 28-year-old graphic designer who wants to be called "Secret Squirrel," has been ripping down posters of Neil Young wearing the Supreme T-shirt he modeled for, and selling them for up to $450.
According to New York Magazine's website "The Cut"  the posters featuring a photograph of 69-year-old folk rocker Neil Young,  are  Supreme's only method of advertising, but thanks to the brand's cultish devotees, there was a line around the block outside the Lafayette Street store when the spring/summer 2015 collection went on sale recently.
Secret Squirrel:  "I went on eBay and saw someone else listing one of these for $150, Buy It Now! And I was like, 'Shit, I should go get more.' I knew it would go for dough. So I went out and got 25."
He listed a few of his posters on eBay. The bidding on one of the posters is up to $51.00. For this "tryptic" [sic], i.e., three posters stuck together, the Secret Squirrel is asking $450. "There's one that's at $11.50, but they all have 10 or 12 watchers each, and I've been getting a lot of messages about them," he says. "You can't buy these anywhere else. Supreme doesn't sell them. Maybe they would give them out to friends and family of the store, but those people wouldn't sell them," he added. (This might not exactly be true. One seller is selling two brand-new posters, never wheat-pasted, for $300 each.)
Read the whole story at: http://nymag.com/thecut/2015/02/want-to-pay-450-for-neil-young-supreme-posters.html#tmhmdj:i0K.
Wait a minute! Isn't there a squirrel in the Peaceful Warrior blog? http://neilyoungdreams.tumblr.com/