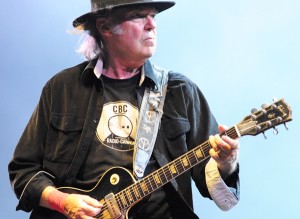 Shar is happy!
Said in a recent  interview with Rolling Stone.
Sometime after the Dolby shows. Date not yet announced
What else do you have going on this year? I got that  record we talked about. I'm  playing the Dolby Theater in L.A. in a couple of weeks for four nights. It's  a beautiful acoustic hall, so I'm playing there solo acoustic. Then I play  Dallas a couple of weeks later, they have a beautiful concert hall there. Then I  go up to Chicago, just solo acoustic. This summer I play with Crazy Horse and I  do the Pono thing.
This is a fun statement:
I was thinking about another time when you were dissatisfied with  sound — there's a story that you bought 200,000 copies of Comes a  Time in 1978 and then destroyed them. Oh, that was because it  was a mastering error. The tape got damaged when it went through the airport or  something. I had to go back and use a copy of the master — it was a copy, but it  had better-sounding playback than the other one.
Did you take a shotgun to the albums? No, no, I made a  barn roof out of them. I used them as shingles.
Read more: http://www.rollingstone.com/music/news/neil-young-on-pono-his-new-album-and-using-lps-as-roof-shingles-20140314#ixzz2vxNl2XoJ Follow us: @rollingstone on Twitter | RollingStone on Facebook
Read more: http://www.rollingstone.com/music/news/neil-young-on-pono-his-new-album-and-using-lps-as-roof-shingles-20140314#ixzz2vxHZLw4x Follow us: @rollingstone on Twitter | RollingStone on Facebook