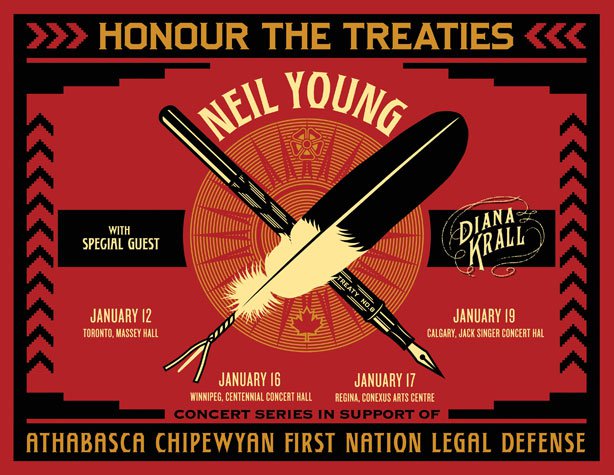 Canada, "Honor the treaties" benefit shows tour itenerary
Jan. 12 in Toronto
Jan. 16 in Winnipeg
Jan. 17 in Regina
Jan. 19 in Calgary.
Supporting act: Diana Krall. Website: http://www.honourtheacfn.ca/ .
Neil Young will perform four benefit concerts in his native Canada to raise funds for a legal defense fund supporting the Athabasca Chipewyan First Nation in "challenges against oil companies and government that are obstructing their traditional lands and rights".
Canadian prime minister Redwood ist not amused: "He has a certain group of fans that follow him and it's good that he's going on tour again. … nd if he wants to support communities, then that's a good thing, but it's certainly not a case where there isn't work going on, and good productive work going on, in terms of economic benefits and partnership, and that'll continue".
When Neil Young visited Fort McMurray, Alta., last year, and compared the oilsands city to Hiroshima, he caused a heated debate.
Here's more to the debate and controvery that Neil is playing in his native country for First Nations in their fight against horrors like oil sands, tar sands:
Neil Young set to kick off Honour the Treaties tour
Shows are almost sold out, but not everyone is excited about Young's campaign against oilsands
By Angela Sterritt, CBC News Posted: Jan 10, 2014
One hundred percent of Neil Young's Honor the Treaties concert proceeds will go to the Athabasca Chipewyan First Nation's legal defence fund to fight the oil sands.
Neil Young is kicking off his Honour the Treaties concert tour Sunday at Massey Hall in Toronto, with proceeds from four Canadian dates going to the Athabasca Chipewyan First Nation's legal fight against the expansion of the Jackpine oilsands project.​
The First Nation is gearing up for a major legal fight after the federal government approved the expansion of Shell Canada's Jackpine mine last month, despite an environmental assessment that said the development will cause irreversible environmental damage.
Shell received the green light from the federal government to expand its 7,500 hectare Jackpine mine to 13,000 hectares.
The company claims the enlarged mine could bring the Alberta and federal governments an estimated $17 billion in royalties and taxes over its life and create an additional 750 full time jobs.
But indigenous and environmental groups say the damage to water, land and animals outweighs any profits the addition to the oilsands site will yield.
>>> read more: cbc.ca/news/aboriginal/neil-young-set-to-kick-off-honour-the-treaties-tour
| BNB articles on oil sands, tar sands |
| Follow the Canadian denial on BNB | Honour The Treaties articles |