Neil Young has postponed his July 3 concert at Rexall Place, without explanation, according to the Edmonton Journal.
The 69-year-old singer issued a statement on Monday noting, "I am sad to say that I must postpone the July 3 Honour the Treaties concert at Edmonton's Rexall Place in support of the Athabasca Chipewyan First Nations legal defence. The Honour The Treaties Tour will be rescheduled and new dates will be announced in the very near future."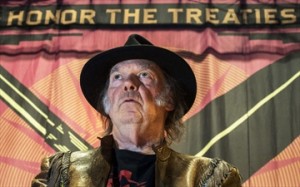 No further explanation was given by Young or his label, Warner Music.
Young has been a vocal supporter of Athabasca Chipewyan First Nations's fight against oilsands development in Alberta, and has staged similar benefit concerts across Canada, including in Calgary. Blue Rodeo was set to open for the veteran rocker.
Honour the Treaties is, according to their site, "an organization dedicated to amplifying the voices of Indigenous communities through art and advocacy. We do that by funding collaborations between Native artists and Native advocacy groups so that their messages can reach a wider audience."
According to LiveNation, tickets purchased online and by telephone will be automatically refunded. Tickets purchased in-person t will be refunded at point of purchase.