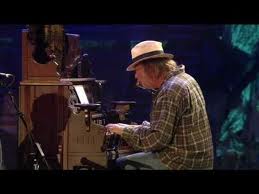 This video from the Neil Young channel is being passed around social media.
Comments are declaring it's the best version ever done on "Old Pumpy."
The filming itself is also excellent, great shot of Neil playing from above.
http://www.youtube.com/user/neilyoungchannel?feature=watch
Young added lyrics to the song, which originally appeared on his album Ragged Glory. "Respect Mother Earth and her healing ways," he sings. "Don't trade away our children's days." The Honour The Treaties concerts –held in Toronto, Regina, Winnipeg and Calgary — raised funds for the Athabasca Chipewyan First Nation Legal Defense Fund. It also sparked debate among Canadians about the oilsands and some criticism of Young.