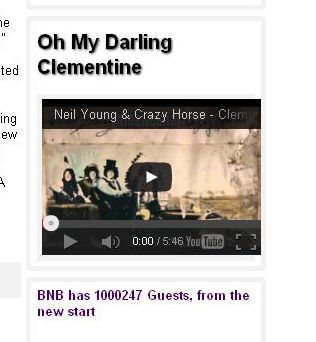 *** We have to celebrate! As of Feb. 8, 2014, www.bad-news-beat.org (BNB) has One Million guest visitors since the start of the new web page in Feb. 2011. Thank you all!
This new BNB webpage was created in 2011 after the old one got defunkt as we moved the HH/BNB pages and mailing list servers from the U.S. to Europe here and the new page administration.
First Light:
1st light of this Neil Young news blog on the Internets was on 2 Feb 11, and on 16 Feb 2011 the new page went public.
Statistics: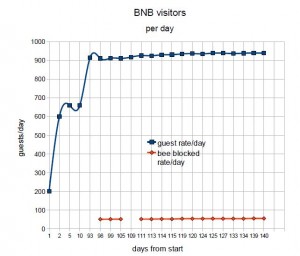 BNB has on average ca. 920 guests/day (blue curve). The longterm average is quite constant, and depends of course on Neil actions in the universal wavefunction, e.g. the latest Honour-The-Treaties debates, Neil in Israel, the crowd sourcing controversy, new albums, Archive releases, Alchemy and other tour coverage. Spam handling (red curve) is brilliant on BNB – everything gets blocked automatically or manually by various methods.
Contributions:
Of course you can also contribute to this page by sending us comments, or over the shoutbox or via the contact form (see BNB page at top) or you can even apply as author. How to? Read the FAQ. You are always welcome.
Thanks to:
All our welcomed guests and the contributors in all spirit, essence and form (you know who you are). A special thanks to Joe and John for the original page, Iris for design & administration and Baron for admins.
Cheers, don't be denied, peace and love to all.
BNB admins.
"You can call me erratic, but I've always been consistent about it — consistently erratic."
by — Neil Young, Tower Theater Pennsylvania 2011.
*****