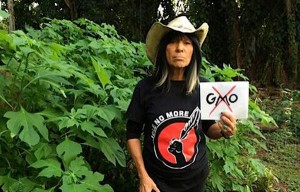 Folk singer Buffy Sainte-Marie is on Neil Young's side when it comes to the tar sands in Alberta, Canada.
In an interview in Indian Country  Sainte-Marie tells writer David Ball:
"Almost a year ago I went to Fort McMurray (Alberta) and I was just devastated  with what's going on there. Just devastated. I just told everybody I could:  'You've got to take this seriously.' Even since I was there, other people have  really stepped forward in their own ways, Neil Young in particular. He's caught  a lot of criticism because he didn't involve me, Susan Aglukark or other Native  people. Neil came to the induction ceremony in Nashville, at the Musicians Hall  of Fame, and I told him I'd seen some of the criticism and not to listen to it  at all! Because it's so important, it has to be everybody doing whatever they  can, whenever they can, and being effective at whatever level they can be. You  reach people your way, I do it my way and Neil does it his way. But people have  to see it."
"Good for Neil for stepping up," she said.
Sainte-Marie lives in Hawaii, maybe she is Neil and Poncho's  neighbor.
Read more at
http://indiancountrytodaymedianetwork.com/2014/03/19/buffy-sainte-marie-tar-sands-youve-got-take-seriously-154085
Read more at
http://indiancountrytodaymedianetwork.com/2014/03/19/buffy-sainte-marie-tar-sands-youve-got-take-seriously-154085