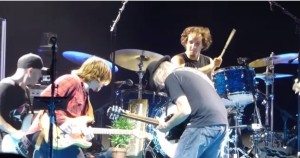 "The Thursday, July 16, Rebel Content Tour performance at the Susquehanna Bank Center in Camden, New Jersey, proved to be the longest so far – a three-hour behemoth filled with long jam sessions, according to reports from concert-goers.
Ryan Cormier at The News Journal in Delaware, a Gannett newspaper, writes that Neil Young is no "old man," as he delivers a massive missive of old and new songs. He states:
"At the Susquehanna Bank Center on Thursday, (Lukas) Nelson, 26, and his youthful band seemingly energized Young, 69, who treated fans to a three-hour-and-15-minute slow burn marathon tour of his career bookended by a pair of his greatest hits.
"He opened the show by appearing out of the darkness sitting at his piano for a solo rendition of 'After the Goldrush' and wrapped up at midnight with a squealing 'Cinnamon Girl' send-off, showing the dynamic range that has marked his more than 50 years in the spotlight.
The only sign of time slowing the still-hard-charging Young was a pink wrap around his right wrist. Everything else was there: his gentle, well-preserved voice, the distinctively eccentric stomps and Crazy Horse-style guitar freakouts.
"A mid-set, near-transcendental run thorough 'Down by the River' lasted nearly 20 minutes with Young and the band sharing solos and Young hauntingly whispering, 'Shot my baby dead.'
Young is at his best when a fire lit – whether it's a cause that needs defending or a big power needs to be fought, Cormier says.
"On stage or in song, there's no hiding when Young has you in his cross-hairs. Just ask former President George W. Bush who endured a focused attack for years from the man who wrote 'Ohio' 45 years ago."
Read more at: http://www.delawareonline.com/story/entertainment/events/pulpculture/2015/07/17/neil-young-nelson/30294523/
Here's a video of Cinnamon Girl and Down by the River and Bad Fog of Loneliness posted by Rick McGraw.
Rumors have it the show lasted 3 hours!!!!

Neil Young
2015-07-16
Susquehanna Bank Center, Camden, New Jersey, USA
05. Mother Earth (Natural Anthem)
14. Flying On The Ground Is Wrong
16. Bad Fog Of Loneliness
17. A Rock Star Bucks A Coffee Shop
18. People Want To Hear About Love
23. Everybody Knows This Is Nowhere
Tour: 2015 Rebel Content Tour
Band: Promise Of The Real
Neil Young – vocals, acoustic guitar, electric guitar, piano, pump organ, harmonica
Lukas Nelson – electric guitar, vocals
Micah Nelson – electric guitar, electric charango, piano, vocals
Corey McCormick – bass, vocals
Anthony Logerfo – drums
Tato Melgar – percussion