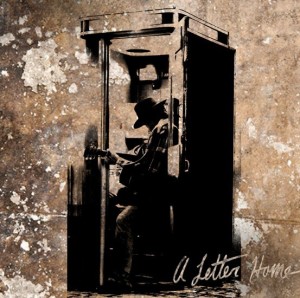 Surprise is right!
Neil Young just pulled a Beyoncé, writes COS (Consequence of Sound).
The legendary singer-songwriter has released his new covers album, A Letter Home. The vinyl record, spanning 10 tracks, is now available for purchase through Third Man Records.
The album was recorded at Jack White's Third Man Records HQ in Nashville, inside a 1940s-era Voice-o-Graph recording booth. White himself is featured on two tracks.
The album includes covers of songs by equally illustrious singer-songwriters, including Bruce Springsteen ("My Hometown"), Bob Dylan ("Girl From The North Country"), and Willie Nelson ("On The Road Again"), among others.
The ordering page includes images of the cover art and the back cover art, which lists Jack White, who appears on the album, and Neil Young as "Reproducers."
Young described the Voice-O-Graph as "A phone booth. It's all acoustic with a harmonica inside a closed space, with one mic to vinyl." It results in a "lo-fi analog record", which Young described as "retro-tech." However, in keeping with the spirit of his new music service Pono, it'll feature a high-resolution sound. As he explained, "You can make a lo-fi, analog record, direct to vinyl, transfer it to 192, and you have a high res copy of a lo-fi vinyl record."
A Letter Home Tracklist: 01. "Changes" (Phil Ochs) 02. "Girl From The North Country" (Bob Dylan) 03. "Needle of Death" (Bert Jansch) 04. "Early Morning Rain" (Gordon Lightfoot) 05. "Reason To Believe" (Tim Hardin) 06. "On The Road Again" (Willie Nelson) 07. "If You Could Only Read My Mind" (Gordon Lightfoot) 08. "Since I Met You Baby" (Ivory Joe Hunter) 09. "My Hometown" (Bruce Springsteen) 10. "I Wonder If I Care As Much" (Everly Brothers)
Source: http://consequenceofsound.net/2014/04/surprise-neil-young-releases-new-album-a-letter-home-featuring-jack-white/