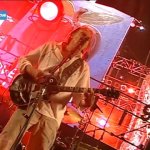 Throwback Thursday…
No Hidden Path ….WOW.
Rock In Rio Madrid, Argranda del Ray, Madrid, Spain.  2008.
"How you change, how you change,  how you rearrange everything that touches me."
Thanks to the HH  German list for the reminder of this gem.
Rock in Rio is an event originating in Brazil. It is a series of music festivals held in three cities: Rio de Janeiro in Brazil, Lisbon in Portugal and Madrid in Spain. In 2015, Las Vegas will be the fourth.
Five incarnations of the festival were in Rio de Janeiro, in 1985, 1991, 2001, 2011 and 2013, six in Lisbon, in 2004, 2006, 2008, 2010, 2012 and 2014, and three in Madrid in 2008, 2010 and 2012.  In 2011, Rock in Rio returned to its original location, Rio de Janeiro, with a new line-up of singers and groups.
Rock in Rio is one of the largest music festival in the world, with 1.5 million people in the first edition, 700,000 in both the second and fourth editions, about 1.2 million in the third, and about 350,000 people in each of the 3 Lisbon editions.
See plans for 2015 and a partial line-up here: http://rockinrio.com/usa/
Taylor Swift???Ok….