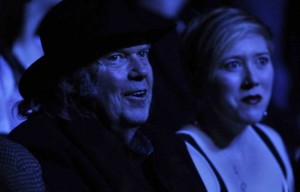 Sharry reports:
Neil arrived in Toronto last night for a special pre-show award dinner before the broadcast from the Air Canada Centre tonight.  He was presented with a Juno for the best Adult Alternative Album of the Year.
:: Youtube video | dose.ca/special/../neil+young
The Toronto Star published an article about Neil and the Youngtown Museum.:
Sharry, just back from the Juno awards at the Air Canada Centre reports:
It was a total Neil Young lovefest. His name was mentioned in glowing terms throughout the evening by the likes of Daniel Lanois, Randy Bachman, The Arcade Fire and more.
Neil was presented with the Allan Waters Humanitarian Award by Daniel Lanois and he made a very humble speech about how we're all humanitarians and that he couldn't have accomplished what he has done without the support of Pegi and the rest of his family.
He also won the Juno for Artist of the Year. Randy Bachman presented this award to Neil. Neil was very gracious in receiving the award.
:: spinner.ca
The Arcade Fire performed "Rococco" from "The Suburbs" and were really amazing. They won Group of the Year and also Album of the Year. One of the members of Arcade Fire mentioned that it was an honour to be in the same room as Neil Young and thanked him for mentoining them in his acceptance speech for Artist of the Year. (He mentioned some other Canadian musicians that he admired which included The Arcade Fire.)
_________________
Thanks again, Sharry!
[photo apparently Neil & Amber Jean]