"No other band of their stature would take this risk"
~Andy Gill, The Independent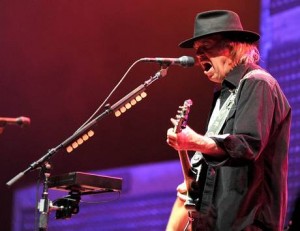 Neil Young & Crazy Horse pull "Red Sun" out of their repertoire of songs to wow a London crowd Monday night.
London's The Independent writer Andy Gill writes in a concert review that: 'Neil Young may be his own harshest critic. 'At times tonight, frankly, we sucked,' he says at the end of another marathon show with Crazy Horse, his on-off backing band for over four decades. 'But with what we do, that's always a possibility.'"
Sometimes, he aptly states, they go beyond the point of no return.
"On 'Walk Like A Giant', a song about counter-culture values that closes his last album Psychedelic Pill, the almost subterranean fuzz distortion Young wrings from his Les Paul is the musical equivalent of tectonic plates shifting."
Read more at: independent.co.uk/arts-entertainment/music/reviews/music-review-neil-young–crazy-horse-o2-london-8663090.html
 Video of Red Sun