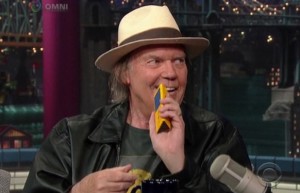 Pono, Neil Young's brainchild for sound, is starting to sound like a broken record…
Pono, Pono, Pono……. the music player of the future.
Here is another critique of the invention and the idea by audiophile Steve Guttenberg at C/Net.
Guttenberg is wondering what's up with the release of Pono, now pushed to 2014.
He writes:
"Like everybody else I'm still unsure about how the Pono music service will work. Will we have to buy a Pono music player to fully enjoy the glories of Pono files? In other words, is Pono a closed system? Or can you play Pono high-resolution Master Files on your computer at home or on an iPhone or Android phone? I can't see how that would be possible in the near term, and I don't consider phones' digital converters and built-in amplifiers audiophile-grade devices. Playing a file is one thing; hearing better sound from it is something else.
"The biggest stumbling block for Pono is the scarcity of high-resolution music being recorded today. According to a friend who worked at one of NYC's biggest mastering studios, only 10 or 15 percent of clients ever bother with true high-resolution masters. Most are no better than 48kHz/24-bit, very few are bona-fide high-resolution 96kHz or 192kHz masters. But even if Young can rack up enough high-resolution music albums, how Pono Master Files will differ from the high-resolution WAV, FLAC, or ALAC files that are already available from other high-resolution download sources, he isn't saying. How will the Pono player be any different than the Astell & Kern, FiiO, or Hifiman high-resolution players already on the market?"
"Pono," by the way, it the Hawaiian word for "righteous."
Read the entire opinion piece at: http://news.cnet.com/8301-13645_3-57608168-47/whats-up-with-neil-youngs-pono-high-resolution-music-system/
/ Why Pono is questionable and doesn't make sense for the end-terminal, i.e. the ear:
https://www.bad-news-beat.org/2013more-on-pono-technical-dissection
Please discuss this.