Another review of the New Zealand show by correspondent Derek Pringle from "The Telegraph." He aptly labels Neil as "one of the great songwriters of his time."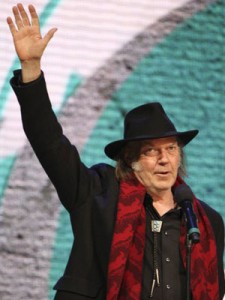 Interesting review that compares Young's performance to Sixto Rodriquez, who had managed to fill a smaller arena in Wellington a week earlier.
Obviously a fan, Pringle describes a sublime scene in the Neil Young with Crazy Horse show that leaves a lasting impression.
He writes:
"There is a moment, about two hours into Neil Young's sell-out concert at the Vector Arena in Auckland, where he plants his left index finger on the top string of his guitar and grinds it slowly up the fret board incanting many of his great albums as he goes.