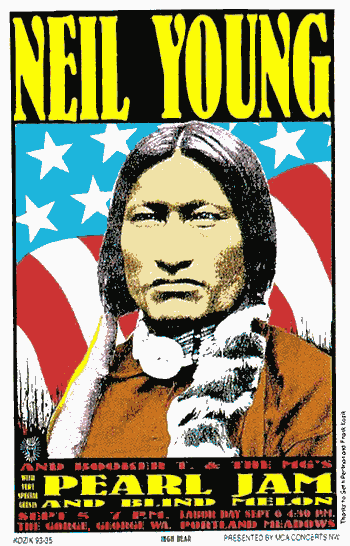 Wow. Who wouldn't want this amazing poster crafted by artist Frank Kozik.
The rare poster promoting a pair of 1993 Neil Young concerts with Booker T and the MGs has gone for $1,375 on eBay after 29 bids according to the website Ultimate Classic Rock.
Only 10 of these silkscreen items were made.
The seller said he purchased this original from Kozik, back in 1994.
The poster was created to promote a pair of September dates, in George, Washington and Portland, Oregon. Booker T. and the MGs, who served as the house band on Stax Records' legendary 60s recordings for the likes of Otis Redding and others, appeared on these dates with session king Jim Keltner filling in for the late MGs drummer Al Jackson. Young later worked the group on 2002′s 'Are You Passionate?'
Read more at: