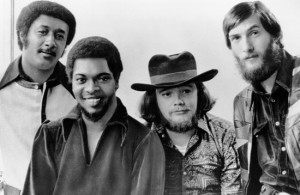 Blogger RJohnson writes about the merging of Booker T. & Neil Young for a nationwide tour in 1993.
MySA, San Antonio's homepage, features a story
The article states: "Keyboard legend Booker T. Jones has seen it all in his six-decade career, from landing a hit with the instrumental 'Green Onions' in 1962 at the tender age of 17 to trying to coax Sinead O'Connor into singing the song she was supposed to sing at a Bob Dylan tribute in 1992 to finally winning a Grammy in 1995, some 30 years after his tunes were all over the radio.
But maybe one of the strangest, and potentially most perilous, of his undertakings came in 1993, when he and the MGs hooked up with Neil Young for a nationwide tour."
The Booker T show (set list here) was pretty much everything a Young fan would want — a career-spanning effort that began with Buffalo Springfield's "Mr. Soul," traveled through the likes of "The Loner," "Heart of Gold" and "Like A Hurricane" and touched upon the best of Young's more recent work ("Rockin' in the Free World," "Harvest Moon." )
It didn't hurt to have one of the greatest backing bands of all time, either. Besides Jones, the band included legendary guitarist Steve Cropper and veteran session players Donald "Duck" Dunn (bass) and Jim Keltner (drums). If I remember correctly, Young played well with the rest of the guys rather than going off the guitar-freakout deep end like he had done with Crazy Horse two years earlier.
Read more here: http://blog.mysanantonio.com/weekender/2014/04/booker-t-flashback-touring-with-neil-young/