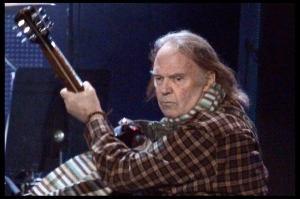 The 2013 "A Tribute to Bruce Springsteen" aired for the first time on Friday, Dec. 5 on  National Public Television.
The show ran from 9 p.m. to midnight.
The tribute was in honor of the rock icon's influence and philanthropy over the years, and subsequently his MusicCares Person of the Year award. Neil plays "Born in the U.S.A."
PBS used the event as a fund-raiser for public television and sold the CDs.
Here is an all-star line-up finale on "Glory Days."
The 2013 ceremony  did air earlier this year on the AXS TV cable network, and clips from many of the individual performances have been floating around YouTube for awhile.
The lengthy show features 16 Bruce tunes covered by Sting, Elton John, Patti Smith, Neil Young and much more, as well as few songs performed by Springsteen himself.
Many of the performances were amazing. Atlantic City for one, was haunting…
(Manuela – you will love this).
Lineup:
Adam Raised a Cain – Alabama Shakes
Because the Night – Patti Smith
Atlantic City – Natalie Maines, Ben Harper and Charlie Musselwhite
American Land – Ken Casey
My City of Ruins – Mavis Staples and Zac Brown
I'm On Fire – Mumford and Sons
American Skin (41 Shots) – Jackson Browne and Tom Morello
My Hometown – Emmylou Harris
One Step Up – Kenny Chesney
Streets of Philadelphia – Elton John
Hungry Heart – Juanes
Tougher Than the Rest – Tim McGraw and Faith Hill
The Ghost of Tom Joad – Jim James and Tom Morello
Dancing in the Dark – John Legend
Lonesome Day – Sting
Born in the USA – Neil Young with Crazy Horse
We Take Care of Our Own – Bruce Springsteen and the E Street Band
Death to My Hometown – Bruce Springsteen and the E Street Band
Thunder Road – Bruce Springsteen and the E Street Band
Born to Run – Bruce Springsteen and the E Street Band
Glory Days – Bruce Springsteen and the E Street Band & cast ensemble
See previous post on BNB: https://www.bad-news-beat.org/2014musicares-tribute-to-springsteen-includes-neil-ch