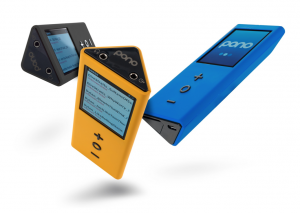 Neil Young to sell $399 PonoPlayer music device through Kickstarter
"Hearing Pono for the first time is like that first blast of daylight when you leave a movie theatre on a sun-filled day." N.Y.
Music veteran to unveil 'highest resolution' digital music service to take on Apple's iTunes in SXSW keynote.
The Guardian writes that Neil Young will launch a Kickstarter crowdfunding campaign for his new PonoPlayer device on 15 March, with early buyers getting a discount on its planned $399 price.
The device will be supported by an online music downloads store called PonoMusic, which will sell files at a higher resolution than rivals like Apple's iTunes.
"It's about the music, real music. We want to move digital music into the 21st century and PonoMusic does that. We couldn't be more excited about bringing PonoMusic to the market," said Young in a statement accompanying the announcement.
PonoMusic is working with US hardware firm Ayre Acoustics to produce the device, which will ship with 128GB of memory to store music, as well as accepting memory cards to boost its capacity. The company will also sell earphones and headphones from its website.
Read more at: http://www.theguardian.com/technology/2014/mar/09/neil-young-ponoplayer-music-kickstarter-apple-itunes
There are critics: Twitter is abuzz with jabs at the system and it's design (Like a Toblerone candy car).
Writes http://www.makeuseof.com/service/web-based/: "The design and pricing have been heavily criticized on social media, but the bigger problem may be timing. The PonoPlayer is surely a little too late to market, with the days of dedicated personal media players having been succeeded by the all-encompassing smartphone."
"In fact, it could be said that the PonoPlayer is about as relevant today as Neil Young."
Ouch!!