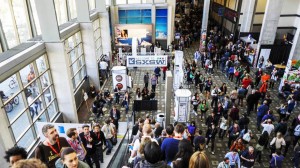 Rock legend and SXSW Music Keynote alumnus Neil Young sits down this coming Tuesday for an interview to discuss his streaming audio brainchild, a high-quality music service called Pono.
SXWS writes: "Young has long been an advocate for studio-quality music in the digital age, and laments the relatively inferior quality offered by the status quo services. Pono, built from the ground-up, is his attempt to remedy this problem, and deliver to the listener the exact, full sounds the artist intends. He is also sure to share some great stories from his amazing career."
The interview is scheduled from 5 to 6 p.m. on Tuesday, March 11 at the Austin Convention Center during the 27th annual South by Southwest Festival, which gets under way Friday in Austin. The 10-day event is expected to attract more than 30,000 to its tech, music and film segments, according to USA Today.
SXSW, as the conference is known, kicks off with the tech portion, targeted toward emerging start-ups and hard-to-get-into sessions that feature panelists pondering the latest tech trends.
http://schedule.sxsw.com/2014/events/event_MP990989
More Pono news: A press release from Warner Brothers posted at Computer Audiophile announces the launch of Pono. The music system is getting very mixed reviews from Neil fans. (read the comments at the above link)
(Although it is now only March 8) >>> March 10, 2014 – (Burbank, CA.) – PonoMusic is a revolutionary movement conceived and founded by Neil Young. Our mission is to bring the highest-quality digital music to discerning, passionate consumers, who wish to experience music the way the artists intended, with the emotion, detail, and power intact.
"It's about the music, real music. We want to move digital music into the 21st century and PonoMusic does that. We couldn't be more excited about bringing PonoMusic to the market," said Neil Young, founder and chairman of PonoMusic.
PonoMusic encompasses both an online music store (PonoMusic.com) and a playback device (The PonoPlayer). The PonoPlayer is a digital-music experience unlike any other, offering the finest quality, highest-resolution digital music from both major labels and prominent independent labels, curated and archived for discriminating PonoMusic customers. The Pono desktop media management application allows customers to download, manage and sync their music to their PonoPlayer and other high- resolution digital music devices.
"Our goal was to offer the highest quality digital music available from all the major labels with the world's greatest sounding, user-friendly portable music player. We've achieved our goal and we are excited to launch our Kickstarter campaign next week to invite music lovers everywhere to join the PonoMusic community and reserve a PonoPlayer for their own enjoyment," said John Hamm, CEO of PonoMusic.
Read more:
http://www.computeraudiophile.com/f8-general-forum/neil-young-announces-launch-ponomusic-19703/