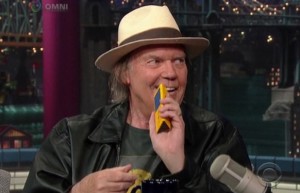 Where else can you find NSA leaker Edward Snowden, talk-show host Jimmy Kimmel, rock legend Neil Young, Chelsea Clinton and genetics expert Anne Wojcicki all under one roof?
(Snowden & Neil Together? The Baron's Dream!)
It's the 27th annual South by Southwest festival, which gets under way Friday in Austin. The 10-day event is expected to attract more than 30,000 to its tech, music and film segments, according to USA Today.
SXSW, as the conference is known, kicks off with the tech portion, targeted toward emerging start-ups and hard-to-get-into sessions that feature panelists pondering the latest tech trends.
Most attention is headed toward Monday at 11 a.m. CT, when Snowden address the crowd via video-conference, in his first public chat since fleeing for asylum in Russia. He will appear via satellite, in a session moderated by the American Civil Liberties Union.
There are parties galore, and those hard-to-get-into panels. Astronomer Neil deGrasse Tyson (Cosmos), Snowden, Chelsea Clinton and TV's Adam Savage are some of the big draws, along with Young, who will be talking about his new Pono hi-resolution audio service, in a panel hosted by USA TODAY's Mike Snider.
USA TODAY will be hosting a live show from SXSW Saturday, Sunday and Monday each day at noon ET, so be sure to go to tech.usatoday.com for the latest.
Read more at: http://www.usatoday.com/story/tech/columnist/talkingtech/2014/03/05/south-by-southwest-preview/6085811/