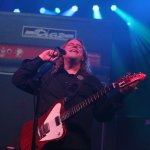 Gov't Mule were joined by plenty of special guests as they paid tribute to Neil Young during Warren Haynes' 26th annual Christmas Jam at the US Cellular Center in Asheville, North Carolina, according to a report from Jambands.com and Glide Magazine.
Warren Haynes Presents The Christmas Jam is a fundraiser for Habitat For Humanity and  a celebration of a longstanding southern musical community. Announced headliner Vince Gill was forced to back out due to the recent death of longtime backup singer Dawn Sears.
Gov't Mule treated fans to a very special performance, which saw the group honor Neil Young (as well as Faces and Led Zeppelin) with a number of special guests. The set began with Jackie Greene joining in for takes on Young's "Cinnamon Girl" and "Tonight's The Night" before drummer Matt Abt and bassist Jorgen Carlsson put down their instruments for "For The Turnstiles." Greene stuck around for Young's "Old Man," which was then followed by a cover of "Helpless" that featured Jason Isbell and Neal Casal. Next, trombonist Danny Louis took the stage to help Jackie Greene through a solo rendition of "After The Gold Rush" before the band returned for "Cowgirl In The Sand" and "Down By The River." Greene finally made his exit as Audly Freed and Caleb Johnson appeared for a cover of Faces' "Stay With Me" that was dedicated to the late Ian McGlagan, and the pair stayed on stage for the take on Led Zeppelin's "Trampled Under Foot" that brought the show to a close.
The jam was all  played out in front of huge inflatable replica amplifiers made to honor Young's equipment shenanigans of lore.
Read more at: http://www.jambands.com/news/2014/12/14/gov-t-mule-honor-neil-young-and-faces-billy-the-kids-cover-phish-at-guest-filled-christmas-jam
and: http://www.glidemagazine.com/128162/26th-annual-warren-haynes-christmas-jam-asheville-nc-121314-show-review/