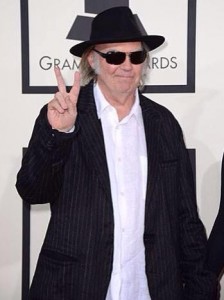 Neil Young did not win the Grammy for Best Rock Album.
Black Sabbath and Led Zeppelin each won an award at the Grammys' annual Pre-Telecast Ceremony this evening, Ultimate Classic Rick is reporting.
Led Zeppelin won Best Rock Album for 'Celebration Day,' a document of their  2007 reunion concert which was released in late 2012. They beat Black Sabbath,  Young, David Bowie, Kings of Leon and  Queens of the Stone Age for this award.
Black Sabbath won Best Metal Performance for the song 'God is Dead?' from their 2013 Ozzy Osbourne-reunion album '13,' beating out Anthrax (who were covering an AC/DC song), Dream Theater and Killswitch Engage.
Continuing classic rock's domination of the early awards, Paul McCartney racked up five Grammy Awards before the main show even started, including a Lifetime Achievement Award for the Beatles, a packaging award for a Wings live album, and various awards for his 2012 'Live Kisses' collection.
http://ultimateclassicrock.com/led-zeppelin-black-sabbath-grammys-2014/
Neil Young waves as he arrives at the 2014 Grammy Awards held at the Staples Center on Sunday (January 26) in Los Angeles.
The 68-year-old veteran musician was joined on the red carpet by his wife Pegi.