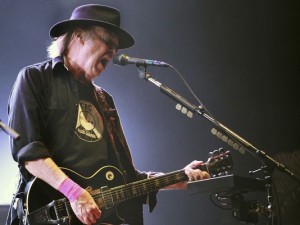 Here's a review of the Cincinnati show from a freelance writer, Walter Tunis, who writes for the Lexington-Herald Leader. This is the five show of the Rebel Content Tour, with Neil Young and Promise of the Real. They performed July 13 at the Riverbend Music Center.
He writes on his blog The Music Box: http://musicalbox.bloginky.com/2015/07/14/in-performance-neil-young-promise-of-the-new/
"Backed by the youthful Promise of the Real quintet, the same band that fortifies Young's wild new protest album The Monsanto Years, the double Rock and Roll Hall of Fame inductee offered a two hour-plus retrospective that moved through the years as readily as it did a series of diverse musical temperaments that reached several epic, electric crescendos with his new performance compatriots.
"The program nodded generously to solo tunes, folk ensemble-infused works and torrential rock 'n' roll jams. That's a lot of musical traffic to cover, but Young traveled through it all, at age 67, (editor's note: Should be 69 here) as tirelessly as the Promise of the New members, all of which were easily half his age, if not younger.
"Curiously, Young saved six of the seven songs performed from the album for the second half of the show, preferring to preface the new material with midtempo Americana staples like Out on the Weekend and Unknown Legend that would have fit neatly into a Farm Aid set.
"Then came the evening's most potent musical cloudburst, a still-venomous Ohio that Young dedicated to the four students killed four hours away and 45 years ago at Kent State University. "They were," Young said with pokerfaced candor of the protesting students, "a threat."
"Bigger noise, however, surrounded three extended romps recovered from three different decades – 1969's Down By the River, 1972's Words (Between the Lines of Age) and 1990's Love and Only Love. Here, Young cut loose with long, jagged guitar runs that delighted the multi-generational audience as well as the Promise of the New disciples onstage with him. Watching co-guitarist Lukas Nelson beam an electric grin as Young traded Black and Decker solos with him during the closing sparks of Down By The River was the Kodak moment of the night."
Read more at: http://musicalbox.bloginky.com/2015/07/14/in-performance-neil-young-promise-of-the-new/
Neil Young
2015-07-13
Riverbend Music Center, Cincinnati, Ohio, USA
w/ Promise Of The Real
Length: 2hr 20min
01. After The Gold Rush
02. Heart Of Gold
03. Old Man
04. Mother Earth
05. Out On The Weekend
06. Unknown Legend
07. From Hank To Hendrix
08. Wolf Moon
09. Words
10. Ohio
11. A Rock Star Bucks A Coffee Shop
12. People Want To Hear About Love
13. Down By The River
14. Workin' Man
15. Big Box
16. Everybody Knows This Is Nowhere
17. Monsanto Years
18. If I Don't Know
19. Love And Only Love
—
20. Cinnamon Girl
Tour: 2015 Rebel Content Tour
Band: Promise Of The Real
Neil Young – vocals, acoustic guitar, electric guitar, piano, pump organ, harmonica
Lukas Nelson – electric guitar, vocals
Micah Nelson – electric guitar, electric charango, piano, vocals
Corey McCormick – bass, vocals
Anthony Logerfo – drums
Tato Melgar – percussion
Setlist courtesy of Tom Hambleton at <a href="http://www
over at this website
.sugarmtn.org/" target="_blank">Sugar Mountain