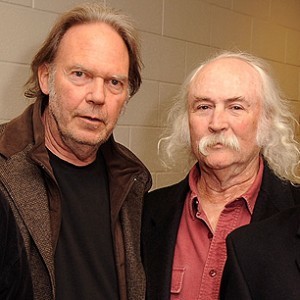 Are you still mad Neil?
Come on.
David Crosby's personal relationship with Neil Young appeared to fall apart late last year when Crosby commented on Young's personal life. Now Crosby has taken to Twitter, over a period days, to both reach out to Young and to explain a complicated relationship that has been a cornerstone for the often-fractured Crosby Stills Nash and Young since the Woodstock era, according to Something Else!
"He's pretty mad at me," Crosby admits, before revealing: "I apologized. We'll see."
The article goes on to state that even in this period of reconciliation, however, David Crosby can't hide his feelings on Neil Young's lo-fi Letter from Home album, recorded in Jack White's throwback phone booth. Crosby deftly avoided answering, thus making his real opinion clear. Asked whether Young can be difficult to work with, Crosby is more magnanimous. "Sometimes, yes; sometimes, no," he says. "He's very intelligent, can be funny."
CNSY last toured together on 2006.
Read more at: http://somethingelsereviews.com/2015/03/18/david-crosby-neil-young-twitter/