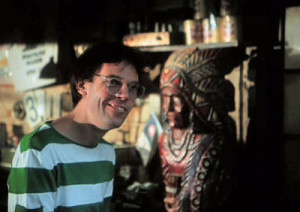 Neil Young will be in Austin, Texas on Thursday, March 19 to attend a screening of his 1982 movie "Human Highway."
According to Noise 11, "Human Highway" will screen at the Paramount on Congress at 5 p.m. in Austin and it will be followed by a Q & A session with Young himself.
Young starred in and co-directed with his friend Dean Stockwell the alternative-comedy, bizarre, eclectic movie that featured appearances by Young, Stockwell, Devo and Randy Hopper. In the movie Young sings "Hey, Hey, My, My" with Devo.
60s fold singer David Blue also made an appearance in the movie. He died shortly after in 1982.
The movie received poor reviews and was once released on VHS video but has not resurfaced yet on DVD or Blue-Ray.
(Maybe it will be on PONO)
Young plays Lionel Switch, a nerdy gas station attendant who dreams of being a rock star.
Source: http://www.noise11.com/news/neil-young-to-attend-human-highway-screening-at-sxsw-20150318
South by Southwest (SXSW) is a set of film, interactive, and music festivals and conferences that take place early each year in mid-March in Austin, Texas, United States. It began in 1987, and has continued to grow in both scope and size every year.