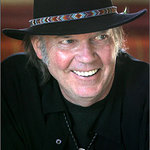 Neil Young is among a line-up of special guests who will be performing on Saturday, April 25th at The Hollywood Pantages Theatre for the 3rd Light Up The Blues Concert—An Evening of Music to Benefit Autism Speaks, the world's leading autism science and advocacy organization.
According to Look to the Stars, the line-up includes Shawn Colvin, The White Buffalo, Steve Earle, Chris Stills, emcee Jack Black,  Spencer Harte featuring Petra Haden, Nick Guzman and Matt Savage.
The benefit concert will begin at 7:30 PM.
Tickets go on sale Friday, February 27th at 10am through Ticketmaster outlets and Pantages Theatre Box Office.
To purchase tickets, click here.
Proceeds from the Light Up The Blues Concert will go towards Autism Speaks' research and advocacy efforts for families and individuals impacted by the disorder.
"We are so thrilled to be doing this benefit for the third time and, this year, at the iconic Pantages Theatre. The last two years' Light Up The Blues benefits were such incredible, life-changing events for all involved. We are so grateful to be able to bring such a special night of music to the entire community and to support Autism Speaks," said Kristen & Stephen Stills.
"It is a night to celebrate the gifts of music and community," Autism Speaks' President Liz Feld said. "Autism sings again! Light Up the Blues is home to the most special talent we have – from Stephen Stills and Neil Young to Matt Savage."
Read more: https://www.looktothestars.org/news/13307-neil-young-and-steve-earle-to-light-up-the-blues-for-autism