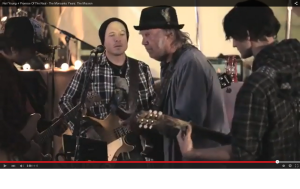 Here's a mini-documentary on  Neil Young's new album The Monsanto Years –  a behind-the-scenes trailer shedding some light on the album and how the collaboration came about.
Lukas and Micah Nelson are members of the Promise of the Real are longtime Young fans, as you will find out when you view the video, and their band name was even inspired by a line from the On the Beach song "Walk On."
What I am trying to figure out, is it "The Promise of the Real" or "Promise of the Real," because then it doesn't need a "the" in front of it.
In a series of interviews, they explain  the collaborative process, plus just hanging out and jamming.
One thing they confirm is Young's unpredictably. You just can't rehearse too much. Wrecks the spontaneity.
The Monsanto Years is due out on June 29 through Reprise.