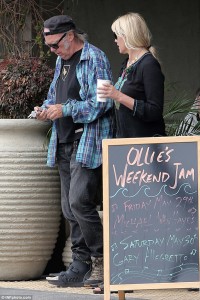 Recent photos of Neil Young and his latest distraction Daryl Hannah, show Young wearing a foot brace.
The photos were taken Saturday. May 30 after the two were seen having breakfast at Ollie's Duck & Dive in Malibu, where Young appears to be living, while his wife Pegi Young remains at the couple's ranch near La Honda, waiting for the impending divorce to become official.
According to San Mateo County Civil Court Records, a status conference is scheduled for June 19,  followed by a July 10 hearing on a motion for bifurcation of issues and a request by Neil Young for case resolution.
In divorce cases bifurcation means a couple legally dissolves the marriage, but postpones resolving issues such as property distribution until a later date.
Inarresting.
Meanwhile, the photos taken and posted at the Daily Mail  are voyeuristic, for those interested in Young's personal life.
Enjoy more at <a href="http://www.dailymail go to the website.co.uk/tvshowbiz/article-3104056/Daryl-Hannah-dotes-beau-Neil-Young-breakfast-limps-ankle-brace.html" target="_blank">http://www.dailymail.co.uk/tvshowbiz/article-3104056/Daryl-Hannah-dotes-beau-Neil-Young-breakfast-limps-ankle-brace.html