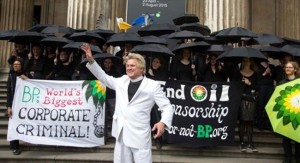 Reverend Billy and the Stop Shopping Choir opened for Neil Young Tuesday, July 21 at the NYC-venue Jones Beach. Accompanying Young is the band "Promise of the Real," with Lukas and Micah Nelson, sons of Willie Nelson.
The Stop Shopping Choir are singing activists who began their life doing things like singing against the hordes of consumers at Macy's front door on Black Friday, the doorbuster ritual. They see the religions of consumerism as, obviously, an ethical problem.
Here's an interview with Rev. Billy conducted the eve before the show by Stefanie Spear at Ecowatch.
Billy: "Neil Young is breaking an American taboo, which is that famous celebrities do not name corporations who are criminal. Neil Young with his companion Daryl Hannah is naming Monsanto, Starbucks and Walmart and their Earth-killing behavior, as we in the Church of Stop Shopping have for many years. We are gratified that they have invited us onto their stage. Earthalujah!"
Billy: "There is a feeling in the air with this tour "The Monsanto Years." It's different when you have that engagement in the world, risky, high energy politics. From the road, Young put up $100,000 to oppose Monsanto and Starbucks in the battle of truth-in-labelling in Vermont. And he's hilariously debating Donald Trump, of course. Daryl Hannah invited radical Earth groups to greet ticket buyers at the lobby of the arenas—they call it an Eco-Village. She engaged Charris Ford to invite the First Nations activists at Idle No More, young farmers at the Greenhorns, Institute for Responsible Technology, Earth Island Institute, Move to Amend and many more. Rock matters again!  Music can create the feeling of change like nothing else."
Read more at: http://ecowatch.com/2015/07/21/neil-young-monsanto-years/