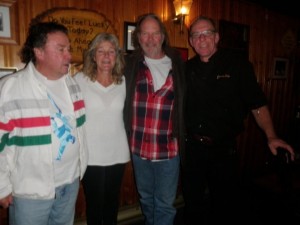 at the Chemong Lodge (with permission =;)
Doug: My sister Cathy and i went to the show at Massy hall as well Walk with me seems to stick in my head,
Sharry: I've attached the photo with Bob Young wearing his white jacket with the colourful horizontal stripes. (This was the same jacket he was wearing at Massey Hall both days.) The photos was taken at the Chemong Lodge (restaurant) in Bridgenorth, Ontario (near Peterborough) in October 2010.
Neil, Bob and Dave Toms went there to eat one night when Neil paid a visit to the Omemee area just before Canadian Thanksgiving.  (Neil also paid a visit to the Youngtown Museum in Omemee then.) The photo shows Bob, Neil, Doug Northey (the owner of the Chemong Lodge) and his sister.