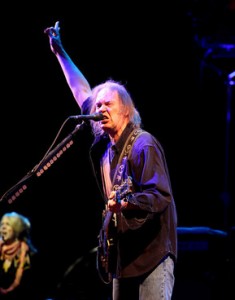 Neil Young announced Monday that he will perform four benefit concerts in his native Canada to raise funds for a legal defense fund supporting the Athabasca Chipewyan First Nation in "challenges against oil companies and government that are obstructing their traditional lands and rights," according to a press release, and published in USA Today.
The "Honor the Treaties" shows — a title referring to the last and largest of 19th century land agreements between First Nation and the government of Canada, guaranteeing protection of the ACFN's lands, rights and ecosystems — will be staged in January. Young will be joined by fellow Canadian artist Diana Krall as special guest.
The concerts will take place Jan. 12 in Toronto, Jan. 16 in Winnipeg, Jan. 17 in Regina and Jan. 19 in Calgary. Tickets go on sale Tuesday.
Read More:
http://www.usatoday.com/story/life/music/2013/12/09/neil-young-to-play-benefit-concerts/3915589/
After the unofficial announcement of Neil Young & Crazy Horse to perform 4 concerts in Germany this summer, now there is news that they will be headliners for next year's Barclaycard presents British Summer Time Hyde Park.
Performing July 12, Young will be supported by The National, Caitlin Rose, Phosphorescent, Flyte and Tom Odell, according to The Guardian.
http://www.theguardian.com/music/2013/dec/09/neil-young-crazy-horse-hyde-park